"The work of an artist is to heal the soul."
~Kathleen Raine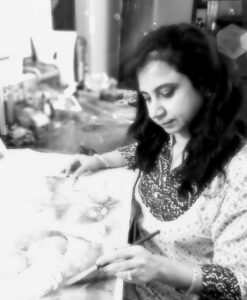 Mridul Aggarwal, a watercolour artist and a mandala designer, considers art therepuetic. She feels creative expression through fine arts can foster healing and mental well-being.
Computer Engineer with Masters in Information Systems by education, she has a natural flair for painting. She gave up her career a few years ago to pursue her passion for fine arts full-time. With no formal education in art, and childhood exposure to and deep interest in spirituality and creative arts made her discover her own unique style and expression.
Be it any medium, any painting, she paints what her soul speaks to her. She believes that art, either the process of creating it or viewing others' artworks, helps people explore their emotions, develop self-awareness, cope with stress, boost self-esteem, promotes social skills and thus helps in mental, physical and spiritual well-being.
Her art is a reflection of her moods and each of her paintings reflect an intense emotion. They are a combination of expressionism and impressionism and not only exhibit form and colour but display human desires and emotions, nourishing and healing the soul with enchanting colours of peace and happiness.
She works in several mediums, however, her niches include watercolours, charcoal and pencil. Associate Member of prestigious "Japan International Watercolor Institute", she has also won several accolades for her watercolour paintings and has showcased them in renowned watercolour exhibitions in several countries including Italy, Japan, Switzerland and Dubai. 
Going on with her journey within as a watercolourist, she felt naturally drawn to creating mandala and started delving deeper into this spiritual art. Since then, she has never looked back and takes workshops and classes for both watercolours and Mandala art to help others grow beyond themselves.